Wed 17 Sep 2014 02:25:03 AM CDT : This site is about to be upgraded to a new software release. If you are in the process of entering information, please complete it in the next few minutes and then log off, to ensure that you are not interrupted. If you were about to start entering details, please wait until this message is removed. You may continue to browse content on the site during the upgrade if you wish. We apologize for any inconvenience this may cause.
Join Us
Thank You
An elephant sized thank you to everyone who participated in the 6th Annual Run For The Wild! Whether you ran, walked, or jogged at the Bronx Zoo or in your home town, your support made this event a huge success for elephants.
We couldn't have done it without you and appreciate your dedication to help WCS and 96 Elephants stop the ivory trade. Take a look at some photos that prove when we work together, we can save elephants from disappearing.
96 elephants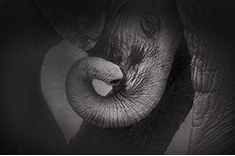 96 elephants
We cannot be the generation that allows elephants to disappear from Africa's forests and savannas.
Sponsor Spotlight
Sponsor Spotlight
Generous support from Montefiore makes our work possible. Get tips for a safe and healthy life.
Neighborhood Perks
Neighborhood Perks
Participants enjoy special discounts at the best places to shop and eat on Arthur Avenue.