July 2013
President Obama vs. poachers
What We're Reading
Wildlife Forensics

Julie Larsen Maher ©WCS
As reported by BBC News, a new high-tech tool has emerged in the war against poaching. Recently, investigators have begun using DNA testing to uncover the region of origin for seized ivory, a critical step in tracing the supply chain. Now, scientists have identified a technique to date that ivory. During the Cold War bomb tests, radioactive carbon in the atmosphere nearly doubled, then steadily declined over time. Because concentrations of radiocarbon are measurable in plant and animal tissues, investigators can use this data to determine the year of an elephant's death, from 1955 until today.

Spotted on Facebook
Good News for Tigers

Cristián Samper ©WCS
Data collected by WCS in collaboration with India's National Tiger Conservation Agency shows that tigers are doing well in Karnataka and Tamil Nadu.

Donate
Become a Wildlife Protector
Join the Wildlife Protectors and provide ongoing support to save threatened wildlife and their habitats. Your commitment of as little as $5/month can help WCS safeguard a future for the last remaining wild tigers, forest elephants, and other species on the brink. You'll also be helping to foster sustainable livelihoods for people who share their environments with endangered animals. In recognition of your support, you'll receive an exclusive Wildlife Protector embroidered patch and a "Making Tracks for Conservation" WCS water bottle.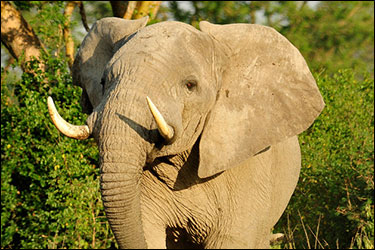 Julie Larsen Maher ©WCS
Poaching Crackdown
Just last week, President Obama made an unprecedented move in the fight against illegal wildlife trafficking. In a visit to Tanzania, he launched a poaching crackdown, dedicating the United States to fighting back against poachers and criminal wildlife traffickers.
The order debuts a new $10 million initiative devoted to protecting Africa's iconic elephants, rhinos, and other species at serious risk of disappearing from the wild. In addition to assisting individual nations fighting poachers, the U.S. will work to identify and convict poachers who operate vast international criminal networks to transport and profit from illegal ivory.
We need to let President Obama know that when he stands up for wildlife, we stand behind him.
17,866 people have already thanked President Obama for taking a tough stand against illegal wildlife trafficking. Will you send your letter today?

Saving Wildlife
Collars Protect Elephants in South Sudan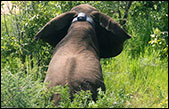 ©Paul Elkan/WCS
Years of civil war decimated the elephants of South Sudan, currently estimated to number fewer than 5,000. In the 1960s and 70s, 80,000 were thought to inhabit the region. Now, the survivors face new threats due to insecurity and an increase in ivory poaching – but the new nation is determined to save them.
Last month, staff from WCS and South Sudan's Ministry of Wildlife Conservation and Tourism collared elephants in an effort to monitor the majority of the country's remaining herds. The GPS/satellite tracking effort is part of a USAID/WCS funded elephant protection program launched in 2009, which includes aerial surveillance from planes, land-based anti-poaching patrols, and intelligence-led enforcement.

Photo of the Month
Hiding in Plain Sight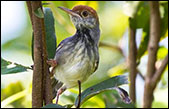 ©Ashish John/WCS
It can be easy to go unnoticed in a big city, and that may describe how the Cambodian tailorbird kept its low profile for so long. A team of scientists from WCS and other organizations discovered the new red-headed, wren-sized bird in Cambodia's urbanized capital Phnom Penh, home to 1.5 million people. The researchers also found the bird in several nearby locations, including at a construction site. It is one of only two bird species found solely in Cambodia.